Autumn 2009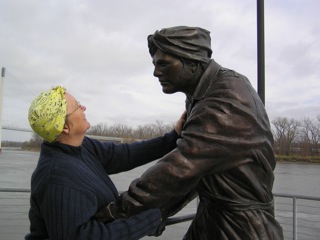 Debra got laid off at the end of October, and we left Duluth for a trip to southeastern Kansas and the factory where our coach was built, for some minor repairs. It transpired that a more than minor repair was required, which would take at least a week. While we were wondering what to do with ourselves, mostly meaning where to live for a week, Debra's company called and asked her very nicely if she'd go back to work for a couple of weeks in Nebraska City, NE.
Since we travel with a cat, finding a motel is not so easy, but we finally found a nice pet friendly and kitchen equipped motel near Omaha, 30 miles from Debra's work site. So we all had a place to stay while the trailer was being repaired. Perfect.
Sightseeing in Omaha, we came across this monument to Labor. It is beautiful, in a lovely setting on the Missouri River, although cold and windy on the day we visited. Here you can see me paying obeisance to the blue-collar, working-class women who went before, the ones who broke trail for the rest of us to follow.
Soon, the trailer was done, and I went to retrieve it and wait for Debra to complete her job. Then we were on our way to our winter home in Blanco, Texas.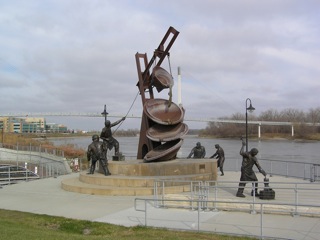 Monument on the River

Solidarity