Where in the world is Jett Sophia?
Click here to see where I am now.
Look at the bottom of this page to see where I've been.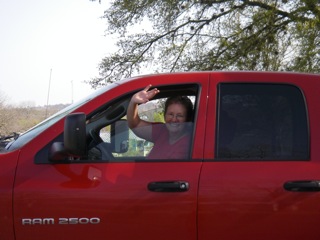 Some background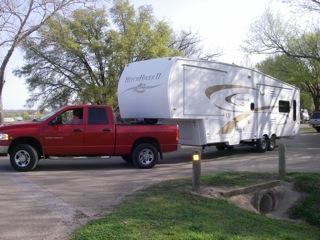 On May 16, 2004 (coincidentally my 56th birthday) my beloved companion, now my wife, and I decided to sell the house and everything in it, buy a camper of some sort, and hit the road. By July the house was sold and we were in temporary digs, and by October, after lots of research, we were the proud/anxious owners of a used 30 ft. 5th wheel travel trailer, and a new Dodge ¾ton diesel pick-up. We hooked up and were out of town by December. We have been living full-time in our trailer ever since. (That's the original truck in the picture, but the second trailer.)
Why did we do it?
Debra was in a quandary. She was seriously fed up with her job, but she had four years to go before she could take early retirement and start collecting her pension. She felt trapped.
I said "Quit!" I suggested that we liberate my retirement (sell my house) and use it to supplement our income until she could begin getting her pension. We decided to do it.
Interestingly, but not surprisingly, once Debra gave herself permission to quit her job, the job became less onerous. She no longer felt stuck. We followed through with our decision, but Debra decided to keep working. Happily, Debra's job has gotten more and more enjoyable as the years pass.
We both love this life, and are again and again delighted that we chose it.
When we began living in our 5th wheel trailer, we thought we'd travel around in the winter, when Debra doesn't work, and stay in the Twin Cities for Debra's job in the summer. But it's turned out to be the opposite. Debra has become the "out of town supe" for her company, so in the summer we travel where her job sends us. It's kind of nice to not have to decide where to go — we just go where we're sent. In the winter we've been staying put in our adopted home in Blanco, Texas.
How did we do it?
We didn't think about it, we just did it. We followed our intuition. I think if we'd made lists of the pros and cons, if we'd consulted friends and family, if we'd given ourselves time to really think about it — I think it likely that we would have thought ourselves right out of doing it.
Once we made the decision, I put the word out in my newsletter that my house was for sale. A reader wrote that his daughter was looking. Presto change-o, the house was sold and the adventure was under way.
We moved from 1800 square feet to 260 square feet. I'm still amazed that we managed to empty out that house and garage. I lived there for 20 years. I raised three kids there. It was full! We got rid of a lot of stuff!
Would we do it over again? Yes. Absolutely yes.
But what about my work?
Happily, I can do readings from wherever we happen to be. Some people find me at a new location and get readings in person. Otherwise, I do phone readings for the rest of my clients. Everyone agrees that phone readings are every bit as beneficial as in-person readings.
I love my work and I love being on the road. I am grateful that the two mesh so well together.